Culinary talent is plentiful in Miami, but these four chefs' tasty endeavors are worth adding to your where-to-dine list
Miami's culinary scene is huge. Talk about a city that has an ever-growing number of restaurants, cool neighborhoods that lend themselves to eating out, and scores of hotels where exquisite dining is part of the getaway experience. That's Miami today, which makes a visit to this town a delicious diversion. However, choosing a restaurant can be somewhat mind boggling. So here's a handful of seasoned chefs who are making headlines with their new restaurants. All have been recognized for past successes, and Miami foodies know them well. Bon appétit!
Chef Dewey LoSasso, AQ by Acqualina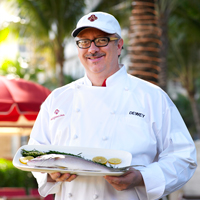 Chef Dewey LoSasso is no newcomer to the Miami culinary scene, but his ideas are always fresh and exciting, leaving foodie fans wondering what unexpected dishes he'll cook up next. Diners may recall his lobster, peanut butter and jelly sandwich from his days in the kitchen at the celeb-crusted Forge restaurant. His new menu at AQ by Acqualina, inside the luxe Acqualina Resort & Spa on the Beach in Sunny Isles Beach, is equally as tantalizing. Using the "it" veggie, he's created not only a fabulous kale salad, but also a kale mojito—think antioxidants and alcohol. He takes a classic grilled hangar steak and jazzes it up with a side of baked beans with wild boar sausage. Dessert is as whimsical as it gets with his version of billowing nitrogen ice cream over peaches and cream topped with caramel. Dining alfresco on the expansive patio promises a Mediterranean villa experience with sea breezes, ocean views and the music of the surf. While inside a soaring ceiling and marble table tops deliver an elegant evening.
Chef Kris Wessel, Oolite Restaurant & Bar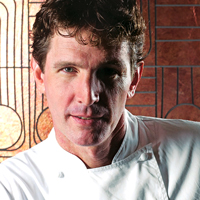 Chef Kris Wessel, a James Beard-Award nominee whose earlier Red Light and Florida Cookery restaurants earned him a solid fan base, has opened Oolite Restaurant & Bar in South Beach. (Just for the record, oolite is the name of the limestone that makes up the southeast tip of Florida.) Wessel seems to have a love for Florida ingredients, and you can expect to find homegrown oranges and mangos in his recipes. A Florida orange allspice-leaf rotisserie duck and a mango pie on a blueberry granola crust are tasty examples. At Wessel's new restaurant, just off Lincoln Road, the floor-to-ceiling windows are lined with tables and inside comfy curved banquettes are separated by driftwood artwork. A long bar with gold-hued lighting and oolitic limestone walls throughout the restaurant give the place its warmth.
Chef Jamie de Rosa, Tongue and Cheek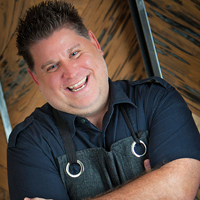 On the edge of SoBe's quieter South of Fifth (SoFi) neighborhood, chef Jamie de Rosa opened Tongue and Cheek, a friendly spot where good conversation and good food are reasons to go. Whether you come for brunch, lunch, cocktails or dinner, de Rosa's contemporary American cuisine fits the laid-back vibe of this casual place just steps from the beach. De Rosa worked with local legendary chef Allen Susser and international celeb-chef Wolfgang Puck, and also spent time cooking in Beijing. His menu is sprinkled with Florida offerings like Key West pink shrimp 'n' grits with chorizo and softed cooked egg. Playing off of Miami's Latin vibe he creates his version of a Cuban sandwich, using Gruyere cheese instead of traditional Swiss. Dessert can be Florida grapefruit with honey, but we'd much rather go with the luscious banana coconut cream pie. The restaurant itself is a classic design in neutrals with lots of windows for light, and its white tablecloth- covered sidewalk tables are always packed.
Chef Michael Shikany, Shikany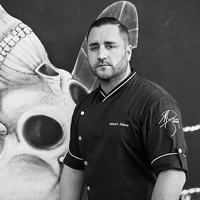 With Miami's Wynwood Arts District becoming a destination for foodies on the prowl, it's the logical place to open a new restaurant. Say hello to Shikany, the restaurant and experiential kitchen of chef/owner Michael Shikany. The multi- talented chef, who worked front and back of the house in restaurants like New York's Le Bernardin and Miami's Ortanique on the Mile, has transformed a 4,000- square-foot warehouse into a restaurant, event space and cooking school. With menus that change frequently, Shikany delivers wildly creative dishes. If forced to describe his food he would reluctantly label it global with French influences; however, one look at the menu and it's not about one cuisine style, but more about free-flowing creativity, which works perfectly in Wynwood where bold graffiti art dominates the cityscape. There's the duck fat poached black cod with japchae (stir- fried noodles), shimeji mushrooms, Nigori coconut milk jus, lotus root and yolk. Shikany doesn't shy away from dynamic combos like scallops and sweetbreads, with purple cauliflower paint, Licor 43, lemon grass buerre blanc and vanilla cotton candy. In his modernist dining room, a 24-seat communal table is where guests enjoy prix fixe multi-course degustation menus, and a bar, lounge and cocktail garden round out the seating.