At Museo Atlántico, the iconic works of Jason deCaires Taylor await swimmers and divers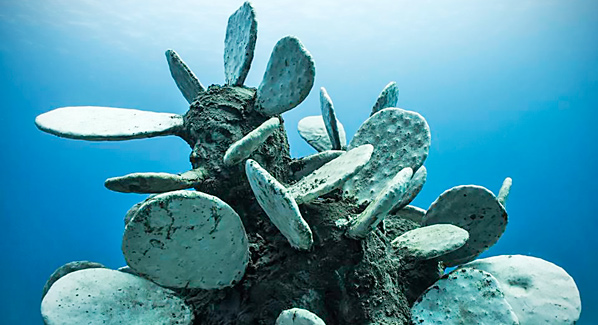 The latest creations of underwater sculptor Jason deCaires Taylor lies under 40 feet of clear water in the Canary Islands. In recent years, Taylor has created iconic underwater sculpture displays in Grenada, Cancun and the Bahamas. The Museo Atlántico exhibition is located in the Bahía de Las Coloradas, just off the south coast of the island of Lanzarote.
The submerged gallery includes 12 tableaus with more than 300 life-size human figures. Taylor says that the collection is designed to provoke environmental awareness and social change. As an added element, the collection also serves as an artificial reef that attracts and shelters marine life. The exhibition can be toured by scuba divers and snorkelers, who follow a trail to discover the site's narrative.
Among the noteworthy pieces is a Wall to Nowhere sculpture created to emphasize that notions of ownership and territories are irrelevant to the natural world. The final piece on the swimming tour is The Human Gyre, which is a large circle of over 200 life-size human figures representing all ages and all walks of life. The site can be visited by excursion boats departing from the island's Marina Rubicón. More can be seen at www.cactlanzarote.com.